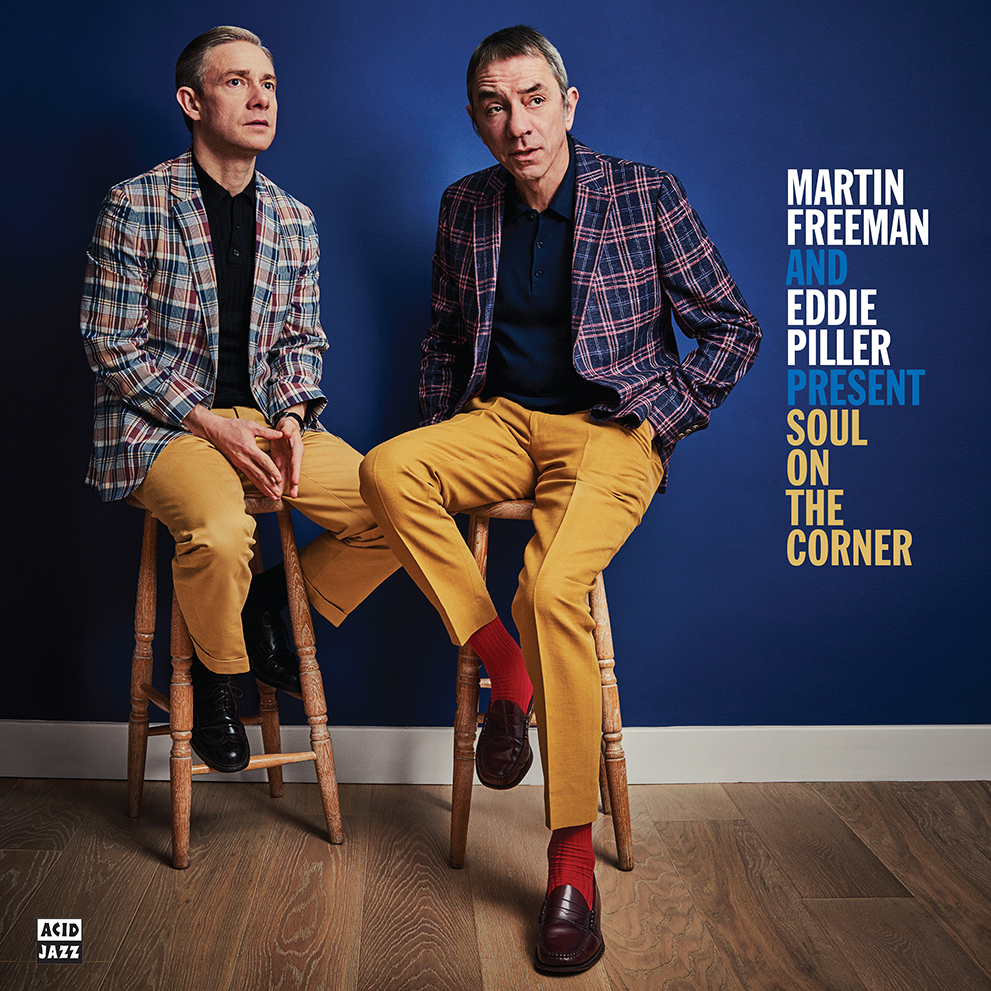 Following last year's acclaimed Jazz On The Corner compilation 2019 again sees Martin Freeman team up with Acid Jazz's renowned head honcho Eddie Piller to present a veritable and personal collection of tracks. Compiled from the pair's personal favourites, be it hearing on the radio, word of mouth or Dj-ing – Soul On The Corner represents the entire gamut of soul from the sixties and seventies right up to the present as illustrated by the likes of Tommy McGhee and the Acid Jazz recent signee Laville.
Opening with the inimitable Bobby Womack and How Could You Break My Heart, as Piller explains; "I never tire of hearing this record and have used regularly to close my DJ set, it's a real hands-in-the-air moment." Further cuts from the renowned and less well-known seamlessly complement each other – the smooth sultry jam of Laville's Thirty One or the superbly nuanced slice of progressive soul in the shape of Sergio Mendes & Brasil 77's Love Music. Piller's selection transcends the rock / soul divide with Never Gonna Give You Up from former Impression Jerry Butler, adding: "I plumped for this because I recalled the incredible response from The Black Keys' version that I aired on the BBC's Funk and Soul show."
No less varied is the choice of soul fan Martin Freeman, opening with the vintage '68 soul with a twist of something rockier, Barbara Acklin's A Raggedy Ride that he professes; "is an unexpected gem that's been a favourite of mine for forever." Other picks arrive in the form of Georgie Fam's cover of Bobby Womack's Daylight that has Freeman enthusing; "the original is a beaut. This is better." Further inclusions come from The Supremes and The Wisdom Of Time, representing the mid-nineties contemporary soul scene is Lewis Taylor with Lucky that as Freeman asserts is; "an epic tune." Meanwhile, taken from their first self-titled album Earth, Wind & Fire's Fan The Fire epitomizes the innovative nature of one of the most successful acts of all time and adds Freeman; "this is a funky-as-hell cry for peace and love. Good lord, they were SO good."
Tracklist
1/ Bobby Womack – How Could You Break My Heart
2/ Willie Hutch – Lucky To Be Loved By You
3/ Tommy McGee – Now That I Have You
4/ Laville – Thirty One
5/ Sergio Mendes & Brasil 77' – Love Music
6/ Pamoja – Oooh Baby
7/ Goodie – You & I
8/ Patsy Gallant – It'll All Come Around
9/ Arnold Blair – Finally Made It Home
10/ The Reverend T.L Barrett And The Youth For Christ Choir – Like A Ship (Without A Sail)
11/ Bobby Dukes – Just To Be With You
12/ Jerry Butler – Never Give You Up
13/ Barbara Acklin – A Raggedy Ride
14/ Georgie Fame – Daylight
15/ Earth, Wind & Fire – Fan The Fire
16/ Lewis Taylor – Lucky
17/ Wayne Davis – I Like The Things About Me That I Once Despised
18/ Donny Hathaway – Voices Inside (Everything Is Everything)
19/ Syreeta – I'm Goin' Left
20/ Curtis Mayfield – Miss Black America
21/ Tower Of Power – Don't Change Horses (In The Middle Of A Stream)
22/ Brook Benton – Shoes
23/ Tommie Young – Hit and Run Lover
24/ Betty Wright – The Babysitter
*CD tracklist differs from LP tracklist*
ALL PRE-ORDERS BEFORE APRIL 27TH WILL BE ENTERED INTO A COMPETITION TO WIN A JAZZ ON THE CORNER TUBE POSTER
Release date May 3rd 2019: All UK pre-orders will be sent out in time for release day, however please allow extra time for international orders due to customs clearing.
https://www.acidjazz.co.uk/wp-content/uploads/2019/03/SoulOnTheCornerPackshotSpotify.jpg
991
991
Acid Jazz
/wp-content/uploads/2015/03/TOPLOGO3.png
Acid Jazz
2019-03-20 15:11:03
2019-10-08 14:16:40
Martin Freeman & Eddie Piller present Soul On The Corner