New Street Adventure Playlist: Jamiroquai, Curtis Mayfield, Lauryn Hill and more…
Last week we announced the new single 'What's So Good About Happiness?' from the new album 'Stubborn Sons' by New Street Adventure. Today, band members Ashley, Billy, Max, Ben & Nick, pick the tracks that inspired them whilst writing and recording the new single and album. You can pre-order your own copy of the single here and you can catch New Street Adventure and their fantastic live show on the 24th November
at The Jazz Cafe, Camden. Tickets here! Playlist also available via Spotify.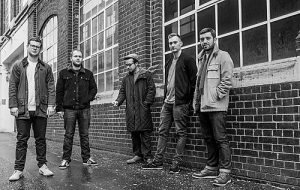 Jamiroquai – If I Like It, I Do It
Ashley: I was listening to "Emergency on Planet Earth" around the time we recorded "…Happiness" and this is my favourite track from the album. I just really like the groove and the overall vibe of it.
Curtis Mayfield – If There's a Hell Below We're All Going to Go
Nick: For the opening track from his first solo album, this really hits you hard. Not many people could create a call to action the way Curtis did. Despite the differing subject matter, I had that line in my head the whole time I was writing the lyrics for Happiness: "If there's hell below we're all gonna go" – we're all guilty in some way. 
Max: I don't bring any one influence to the way I play the piano; there are too many – Carole King, Dave Grusin and Corey Henry are some of my favourites. But there's also this chap residing in NYC, Oli Rockberger, whose gospel led playing is at the top of my list. Here's a short track that frames his sound for you. 
Billy: The wah guitar part in this song really inspired my playing on the new single. I know it's a well-known track, for good reason, but I love The Stone Roses brought funk influences into their music.
Angie Stone – Touch It (Live in Amsterdam)
Ben: I like this track because the dynamics stand out well, especially in this live version. It's influenced me to play with more control, especially when recording.
Lauryn Hill – Everything Is Everything
Ashley: We were listening to a lot more hip-hop/neo-soul when we wrote the new album and I think you can hear the influence of this one if you listen hard enough!
Richard Hawley – Which Way
Nick: I got really into Richard Hawley a few months before we recorded the new album and his vocal technique really inspired me. Not that I'll ever have as much power as him in the low ranges but listening to him made me realise a good vocal performance isn't always about pushing yourself to your limits.
New Street Adventure's new album 'Stubborn Sons' will be out early next year. The single 'What So Good About Happiness?' will be available digitally on the 18 November and then physically as of the 24 November. Limited to 300 copies so be quick! Pre-order here!